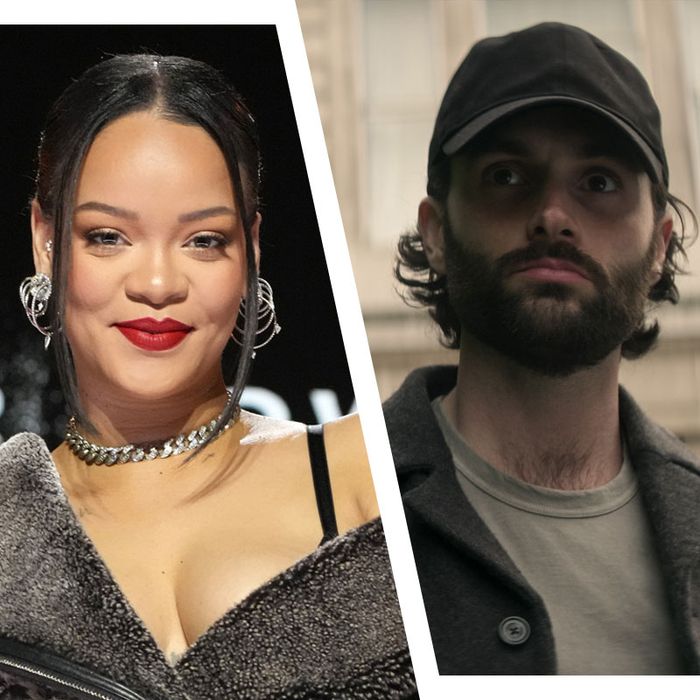 Photo-Illustration: Vulture. Photos: Getty Images; Netflix
Let me be the first one to tell you (before anyone else!) happy early Valentine's Day. I could rag on the holiday's capitalistic commitment to squeezing more dollars out of us, but as a huge proponent of Christmas, that would be hypocritical of me, so we're moving on! Instead, let's just celebrate love like optimists, shall we? I do enjoy when the internet bands together to talk about what they're watching, and surprisingly this weekend has a lot of opportunities for that, from our continual thirst over Pedro Pascal in The Last of Us (PSA: Episode five airs Friday night instead of Sunday this week), to whatever shenanigans Joe Goldberg is up to in season four of You, to, of course, the Super Bowl (a.k.a. Rihanna's weekend). So, here are those, plus more of our picks for the best new movies and TV shows to watch this weekend.
Let's get the elephant in the room out of the way. It's Super Bowl weekend, everyone — a communal event where the sports-enthused gather and many of us actually want to watch some advertising. Oh, and you can't forget the Puppy Bowl. But more important, this weekend's Super Bowl is the stage comeback of Rihanna. It's been six years, people. And whether her performance comes with an album announcement or not, one thing is for sure: Her show is going to rule.
Salma Hayek seduces Channing Tatum for one last dance, maybe, probably. With the OG Magic Mike director Steven Soderbergh at the helm (Gregory Jacobs directed Magic Mike XXL), Last Dance should be a sexy, triumphant end to what Soderbergh started, as Tatum's Mike Lane recovers from the pandemic and meets Hayek's luxurious Maxandra Mendoza and decides to put on a theater show. It's not as in sync with its predecessors, but hey, if you just need a sexy pick-me-up, might as well check it out.
Nothing says romance more than James Cameron's historical epic — if you can't hysterically sob together in a public place, why bother? In honor of its 25th anniversary, Valentine's Day, and as a way to boost her box-office power, Titanic is sailing back into theaters for a limited time. Cameron even made sure to treat you by presenting it in 4K HDR with high-frame rate.
Love is in the air … and apparently so are some pheromones making the citizens of Gotham City go mad with lust and do it in the streets. HBO Max's Harley Quinn — arguably the best take on the Batman characters in recent memory (sorry, Robert Pattinson) — returns after a triumphant third season for a Valentine's Day special. Harley and her girlfriend, Ivy, are in a good place, but Harley's tendency to be a little extra might be an issue. Love makes people do crazy things, and Harley is already a little, well, you know. —James Grebey
As Marie Kondo once said, "I love mess," and Love Is Blind, specifically season three, is a hot mess. So, now comes After the Altar, a three-episode catch-up of how the cast is doing post their season drama. If you're already an invested fan, you know After the Altar — even if it's a whole lot of nothing in terms of tidy resolutions — is always juicier than the sit-down reunion.
This docuseries from Oscar-nominated director Zach Heinzerling, based on New York's 2019 story about a group of college students who were manipulated and abused by a classmate's father, takes us inside the cult with video and interviews of the affected "stolen youth" in an attempt to understand how any of this could have happened. —Roxana Hadadi
Joe Goldberg has escaped suburbia (Love, you will always be famous) and made it into the upper echelon of London society as Professor Jonathan Moore. Even though he thinks he's off scot-free, Joe naturally gets sucked into a tantalizing murder-mystery plot among his new circle of friends. It's a bit of a departure from You of yore, but it is fun to see Joe squirm.
Read our streaming recommendations from the weekend of February 3. Vulture's next list of weekend-streaming picks goes online Friday, February 17.