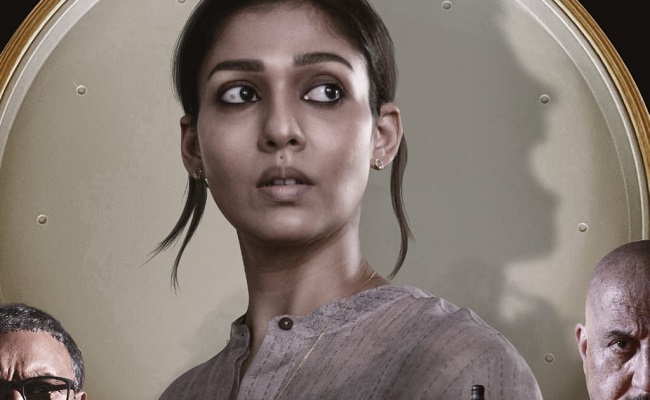 Movie: Connect

Rating: 2.5/5

Banner: Rowdy Pictures, UV Concepts

Cast: Nayanthara, Sathya Raj, Anupam Kher, Haniya Nafisa, Vinay Rai and Others

Music: Prithvi Chandrasekhar

Director of Photography: Manikantan Krishnamachary

Editor: Richard Kevin

Producers: Vignesh Shivan

Directed by: Ashwin Saravanan

Release Date: Dec 22, 2022
Nayanthara has actively promoted her film in Telugu for the first time since "Connect" produced by her husband.
Let's take a look at the pluses and minuses.
Story:

Teenager Anna (Haniya Nafisa) loves music and wants to pursue it professionally. Dr. Joseph (Vinay), Anna's father, is supportive of her decision, but Susan (Nayanthara), Anna's mother, is opposed to the idea of sending her daughter away to foreign school at such a young age.
A lockdown was announced due to the rising number of COVID-19 cases the day after this conversation takes place in their home.
Dr. Joseph contracted COVID-19 while caring for his patients, and he ultimately passed away from the disease. A few days into the quarantine, both the mother and the daughter have tested positive for the virus.
Anna's grandfather (Sathya Raj) learns that his granddaughter is possessed during a video call. Susan's response to this challenge drives the rest of the plot.
Artistes' Performances:

Newcomer Haniya Nafisa amazes with her natural acting and expressive face. It's a tough part for a debut actress to take on, but she does it with ease.
Nayanthara gives a nice performance as a concerned mother. Veterans Sathya Raj and Anupam Kher carry off their roles with ease, and Vinay Rai makes a brief appearance.
Technical Excellence:

The technical crew has put in a lot of work to ensure a visually and aurally stunning experience. Special mention needs to be made for the cinematographer and the music director.
The cinematographer successfully captured the film's experimental narrative style by shooting almost entirely in natural lighting. It has an effective score in the background.
Highlights:

Narrative style

Newcomer Haniya's acting

Short duration
Drawback:

Predictable story

Lack of strong emotions
Analysis

The movies "C U Soon" and "Searching" are examples of those that tell their stories on computer screens and smartphones. "Connect," starring Nayanthara, also has the characters communicating exclusively through digital screens.
The majority of our exposure to the drama occurs through digital means, such as tablets, smartphones, and video chats.
Neither the Tamil nor Telugu film industries have ever attempted anything like this. 'Game Over' fame Ashwin Saravanan successfully introduces this novel approach.
Having said that, the film's plot is flimsy. In fact, the entire plot is reminiscent of numerous other horror films, especially the parts where the young girl seeks the help of a woman in order to communicate with her recently deceased father, and where a priest performs an exorcism. Not even the scares can surprise you.
There are, however, a few brilliant moments in the movie. When a scary chain of events occurs, the call gets dropped or buffering starts immediately. Suspense has been amplified by those parts. These are deft maneuvers.
Despite the fact that the technical performance and approach to storytelling are cutting edge, the emotions are not strong. There is no compassion shown in the scenes between the mother and daughter. Even the relationship between dad and daughter is superficial.
Despite being relatively brief, the horror thriller spends a lot of time setting the stage. By the time we get to the climactic third and final act, the story has lost much of its momentum and intensity.
On the whole, "Connect" has its brilliant moments, but overall it lacks excitement. It never quite manages to hit the right emotional chord with its audience.
Bottom line: Insufficient Signal