A favourite local spot, Cousin Vinny's offers live entertainment every weekend at both the Hanmer and Chelmsford locations until summer.
Chris Vitiello, the owner of Cousin Vinny's Restaurant and Bar, said they have something going on all the time, usually live bands, but there are also comedy shows and other live acts.
Specializing in bigger groups, these two giant locations offer seating for 200 at Chelmsford and 300 at Hanmer, with seating space in front of the bandstand at around 130.
"If people want to attend any of these shows, and most will want to sit in the main dining room, It's always best to call as early as possible and reserve a seat. We fill over 80 per cent of the time."
"Book as early as possible, especially with larger group sizes. Keep in mind. We'll always have enough room for everybody," Vitiello said. "Our places are massive. But they've got to call as early as possible if they want a good spot in front of the bands."
He said there are incredible tribute bands lined up, like an AC/DC Tribute band, Hell N Back, playing on Feb. 25 at the Hanmer location. Advance tickets are $10 dollars or $15 dollars at the door. For ticketed events, stop by Cousin Vinny's to purchase.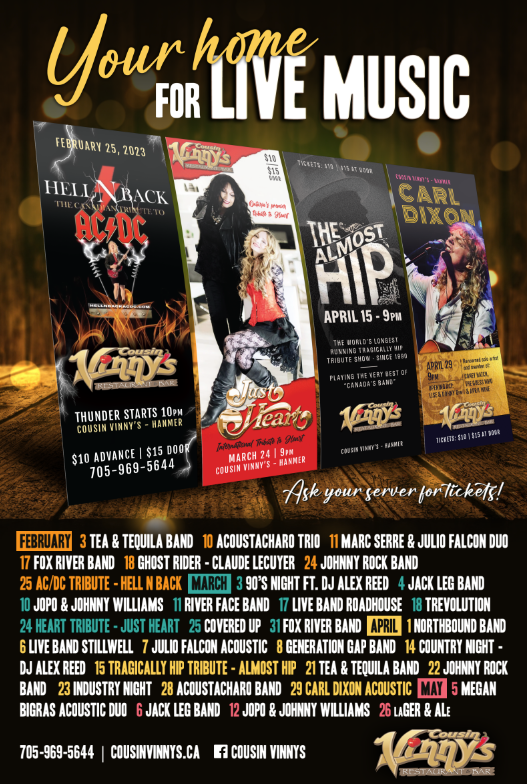 Outside of these signature events, there is no cover charge, so grab your buddies and call in advance to book your table today. 
"Entertainers are booked from now until May," Vitiello said. "We like to book everything in the first few weeks of the year. And we'll do everything right now until May, then we take a break for the summer, and then we do everything for the rest of the year after that."
Both locations are only a 15 to 20-minute drive out of Sudbury, so it's a great option, even if you live out of town.
"We're the entertainment hub of our small community. But not only that, many people will travel from the city to come and watch these shows."
When you go to Cousin Vinny's for live entertainment, don't forget to order some of that delicious Italian food. 
Vitiello recommends pairing the shows with one of their many appetizers. They have wings, homemade dips, homemade stuffed jalapenos and mushrooms. They offer their full menu until 9 p.m. and a late-night menu until 11, so you won't leave hungry. 
"We're proud to bring quality entertainment to Cousin Vinny's and this community. We're proud to offer excellent quality bands or entertainment. It makes us happy at the end of the day to provide a good show for people."
"We've been open for 13 years and have two locations. Our motto is we pride ourselves in offering good food, good service and good entertainment."
Visit their website for a complete listing of events and ticket prices, then call Cousin Vinny's to reserve a table today at 705-969-5644 or visit their Facebook page to stay up to date.
2023 Hanmer ticketed Events 
Feb. 25 — AC/DC Tribute, Hell N Back — Tickets $10-$15
March 17 — St. Patty's, Live Band Roadhouse — Tickets $10-$20
March 24 — Heart Tribute, Just Heart — Tickets $10-$15
April 14 — Country Night, DJ Alex Reed  — Tickets $10
April 15 — Tragically Hip Tribute, Always Hip — Tickets $10-$15
April 29 — Carl Dixon Acoustic-Lise & Donny — Tickets $10-$15