Some lives take on an uncontrollable life of their own. One of those belongs to Margie Ratliff, whose world changed the night before her 20th birthday when the woman she knew as her mother was discovered dead at the bottom of a steep staircase in the family home in Raleigh, North Carolina. The horrific events of that night in 2001 not only resulted in one of the most scrutinised court cases in American legal history, they also launched a new kind of global entertainment: the serial true-life crime documentary, the did-he-do-it?
Michael Peterson, a novelist and Vietnam war veteran and Ratliff's adoptive father, was charged with the first-degree murder of his second wife, Kathleen. He protested his innocence, claiming Kathleen had fallen down the stairs at the end of an evening spent drinking by the pool. In order, he said, to make the legal process transparent, he invited a film crew from France, led by director Jean-Xavier de Lestrade, into the family home to record every detail of his preparation for trial. The film crew had full access to family breakfast tables and lawyers' briefings and court rooms and prison cells. The defendant and his lawyer, David Rudolf, became stars of the show. Meanwhile, Michael Peterson's devoted children – Ratliff and her sister Martha and their two adoptive brothers – had to do all of their grieving and a lot of their fast-forward coming of age in front of a camera.
The eight entirely compulsive episodes of The Staircase – which ended in the conviction of Michael Peterson – were originally shown in arthouse niches of TV schedules: on the Sundance Channel in America, on Canal+ in France and BBC4. Still, the series became a landmark among documentary makers as a new kind of television storytelling, one that put viewers in the position of jury members, assembling family secrets, balancing prosecution and defence. The Staircase won awards; Michael Peterson, from prison, won a right to appeal and retrial, which led to three new episodes of the series, a decade after the original. And then something else happened: streaming services, hungry for binge-watches.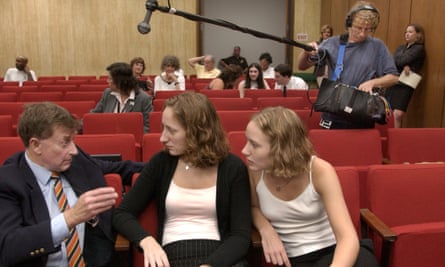 In 2018, The Staircase was bought by Netflix. It became a number one documentary drama choice on the platform, available in 200 countries. The question of Michael Peterson's guilt or innocence, never resolved – he avoided a second trial through a type of guilty plea in which the defendant asserts his innocence but admits that sufficient evidence exists to convict him – was raked over once again by a global audience with let's-just-watch-one-more-before-bed habits. Social media was alive with theory and counter theory (one including the idea that Kathleen had been attacked by an owl).
Last year, not to be outdone, Netflix's rival HBO Max – available on Amazon Prime – bought the drama rights to The Staircase and created an eight-part family drama about the events starring Colin Firth as Peterson. The documentary director, Lestrade, who had sold the rights, claimed he felt betrayed by the HBO production, which played fast and loose with elements of the story, particularly a romantic relationship between the documentary's editor, Sophie Brunet and Michael Peterson (the relationship did occur, but only began after Lestrade's film had ended, and therefore did not, as the drama implied, tilt the documentary in Peterson's favour). Somewhere in among all of this, the other family members, including Margie, all inadvertently world famous for close-up anguish, have had to try to make a life beyond that watch-all-episodes-now existence.
That latter fact is – with due irony – the substance of another documentary, Subject, released in the UK on 3 March. It looks at what happens to participants in true-life dramas once the cameras have left and thoughtfully examines the duty of care that documentary makers owe to participants. The film, co-directed by Camilla Hall and Jennifer Tiexiera, was developed with Margie Ratliff, who is one of its co-producers. As well as her story, it features Jesse Friedman (wrongly imprisoned in Capturing the Friedmans), Mukunda Angulo (incarcerated with his siblings for more than a decade in the family apartment in The Wolfpack), Arthur Agee (child basketball hopeful of Hoop Dreams) and several others.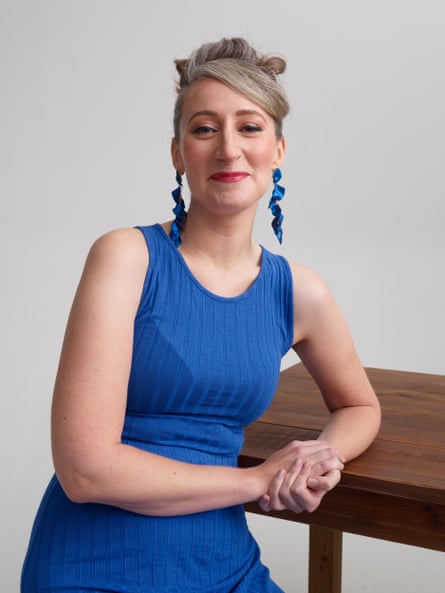 I spoke to Ratliff last week about Subject. I had just re-watched The Staircase and some of the HBO series in preparation, so her face on my Zoom screen looked unnervingly familiar. That sensation was a quick reminder of how all the old categories – fact, fiction, reality, drama – have become blurred, because everything comes at us from the same screen. Ratliff could almost laugh at some of the implications of that, if it were not also her life. In discussing reaction to the competing versions of The Staircase she mentions that a friend recently directed her to a Facebook chat, in which viewers were debating the drama versus the documentary. One said she "preferred the new one because the acting was better".
Two events prompted Ratliff to become involved with Subject. The first was the publicity surrounding the Netflix launch. The second was her dad's decision to appear on the American primetime talk show Dr Phil, partly to promote a book he had written, Behind the Staircase. The Peterson children had all been hoping they could stay away from more headlines. His going on Dr Phil, Ratliff says, "was such a strong violation of myself and my family that I thought: I need to bring in cameras. I think I need to tell this from my side."
There is a moment early on in Subject when Ratliff sits in front of the camera and gives a spoken understanding of the nature of the documentary and her agreement to be in it. That kind of waiver never happened for the original Staircase; Michael Peterson effectively signed up the whole family.
"I remember a phone call that I had with my dad before I came back from college," Ratliff says. "The film crew were already there. I said, 'Why do we want cameras?' And he said, 'Well, I talked to my lawyer. And we both really think that the more eyes on this, the better.' I was 20 years old. My mom had just died. All of us kids decided, yeah, we're gonna help dad. This is what we need to do right now."
It's painful to watch the interviews that Ratliff and her sister gave to Lestrade's crew back then: wide-eyed with anguish, desperate not to say the wrong thing to harm their father's case. Though Ratliff still supports her father and remains on friendly terms with the French film-makers, she wonders aloud in Subject if there should not be some mechanism which would allow her to erase herself from Netflix screens. I wonder how often she has gone back and watched that footage?
"I watched the original eight episodes when they were in post-production," she says. "They sat me down in a room and I watched all the episodes in two days. They wanted feedback: 'Hey, what did you think?'" Her primary thought was that she did not want to see any of it ever again, a resolution she has stuck to.
How about the HBO drama?
"Absolutely not. I hear there's three different [staged] versions of my Mom's death. I'm not going to watch that."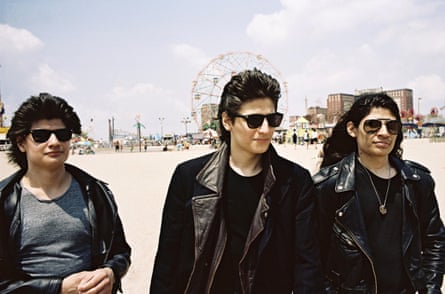 For all their efforts not to reopen those wounds, the makers of Subject mention to me how a couple of times, in editing their film, they inadvertently exposed Ratliff to triggering images of the staircase. It was a reminder of that gap of perspective between film-maker and subject, the kind of jolt of understanding that had made them want to explore this area in the first place.
Camilla Hall had come to documentary-making from print journalism at the Financial Times. She was struck, she said, by the contrast between a print newsroom "where you have hierarchies of editors and pretty clear rules about interaction with sources" and the world of independent film-making, "which was like the wild west: literally make a film, get someone to fund it, and it could go to a festival without anybody fact checking, or asking how it happened. While that was kind of freeing, it was also scary."
Her co-director, Tiexiera, reached the same conclusion, from a different background. She started out as an editor on documentary films 20 years ago, having beeninspired by the social storytelling of Hoop Dreams. With the average documentary back then, she says, you might work with a subject (she and Hall tend to use the words "participant" or "collaborator") for years. "When I got deeper into editing the footage, where I was falling in love with these people, these families, I was also, I realised, ultimately making decisions that could affect the rest of their lives…"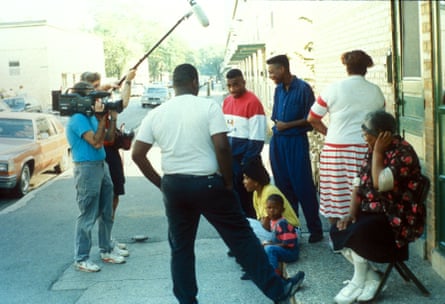 Subject explores that responsibility. It questions whether subjects should, ethically, be compensated in some way for their participation (Ratliff has never received a cent from any version of her filmed life). And it examines how contracts might be adjusted so that those involved are not simply signing off rights in perpetuity. There was a time when these questions hardly applied – no one made much money from documentary films, and not that many people watched them. The streaming services have changed that.
"As we say in Subject," Tiexiera says, "it's not the golden age of documentaries, it's the corporate age. And so you see a lot of shifts. You see a shift to this idea of docu-tainment or a docu-reality, or things are done faster. And one of the first things that falls by the wayside are these ethics. You don't have the time to go in and sit with a participant three or four times and agree on a release clause."
Subject advocates for a support team of therapists on documentaries in which real-life trauma is explored. "There has always been this idea," Hall says, "that the director is a de facto therapist – but with no skill set to be able to be that person. I think it's important to have a third party who is not at all invested in the success of the film, but is invested in the care of those involved. As a director, you might think you're the most empathetic person in the world. But in getting to the story there's a conflict of interest inherent from day one…"
Ratliff has had to fund her own therapy in the two decades since The Staircase was made. The aim, she says, has been to try to retain or regain a sense of being in control of her own self. "I do a lot of EMDR [Eye Movement Desensitisation and Reprocessing] trauma therapy," she says. "And that has helped a lot in the moment, you know, of people coming up to me in the street and asking if my father was guilty or innocent."
I guess that happens a lot?
"Yeah, it really does."
Her interest in some of these issues has also been a professional one. The child who, well before The Staircase, would constantly be filming her family gatherings with a hand-held JVC camera went to film school and works in the industry. Part of that ambition was sharpened by her relationship with the French film crew, who at the most traumatic time in her life were "a lovely group of people compared with the American press. I think they were able to get a lot of access to our emotions and our vulnerability because of that."
Ratliff's own film-making ambitions tend toward fiction rather than documentary. A friend recently brought her an idea for a true-crime series, thinking she would be the ideal person to make it.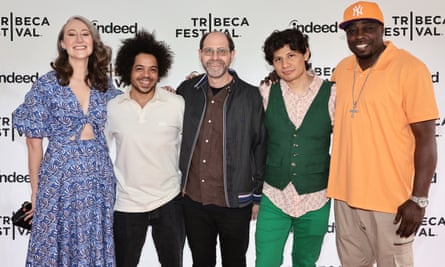 "I sat down for hours, trying to figure out how I might do that ethically," she says. "A lot of that is about reflection: am I the right person to make this? Can I give a voice to these people? What will it be like for the families of the victims? But I don't like spending time with true crime. I don't watch it. I don't listen to podcasts."
Instead, in collaboration with some of the other subjects referenced in Subject, Ratliff is currently creating a non-profit organisation that will support documentary participants in the future: "providing mental health resources, giving legal help and counselling, talking about compensation, those kinds of things".
She never wanted to make money from her own family's trauma but was blindsided by the big-budget billboard campaign for last year's HBO drama. She is played by Sophie Turner, fresh from Game of Thrones, and Turner contacted her during production to see if they might chat – tips for a no-doubt lucrative role for which the real-life Margie received nothing but pain.
"I don't think that she did really anything wrong in asking," Ratliff says. "But I said: 'No. Absolutely not.'"
One of the hardest things, I suggest to her, must be to constantly remind people that you actually have a whole other real and complex life outside of The Staircase.
"Yeah," she says, with a half-smile. "I've done a few Q&As in cinemas for this film. And when I'm in front of them, I see people kind of gasp. It's a real visceral response for people to see me in 3D and hear that I'm a real person. I'd like to think that is what can change."
The subjects of Subject: four people who had their lives changed by documentaries
Arthur Agee, Hoop Dreams, 1994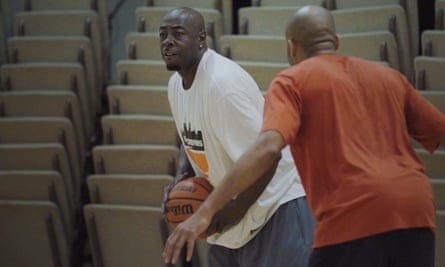 The 1994 film about young basketball hopefuls in Chicago, made over five years, had Arthur Agee, then a gangly teenager, at its heart. "To start with," he recalls in Subject, "I didn't want the camera to see the real Arthur, but then it got to the point where I forgot the camera was even around." The producers had originally told Agee that there would be no money in the film. But after it grossed millions, all those who'd had a speaking part were given a cut. Agee never made it to the NBA, but he was able to buy his mother a new house and car.

Ahmed Hassan, The Square, 2013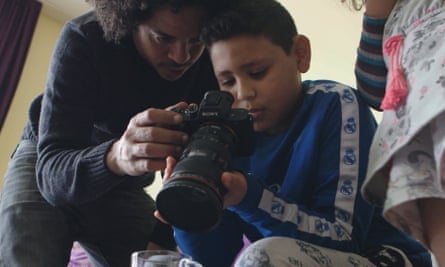 Jehane Noujaim's The Square depicted the Arab spring revolution in Egypt. Ahmed Hassan, one of the spontaneous leaders of that uprising, became a central figure in the film. Ten years on, he is living in political exile in Turkey, proud of his role in the film but ambivalent about the effect it has had on his life: "I don't feel like I'm free… but at least the film is inspiring a lot of people." In Istanbul at the time of Subject, Hassan is seen trying to make a documentary of his own about Syrian refugees. He has had to sell his camera in order to survive.

Susanne Reisenbichler, The Wolfpack, 2015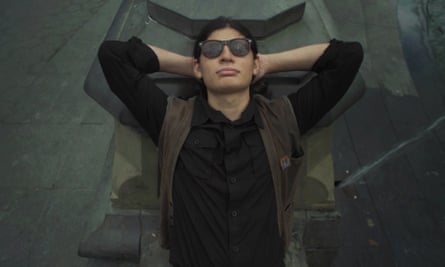 "If this had been an ordinary movie," Susanne Reisenbichler says, "my sons would have made millions of dollars. But because it is a documentary, historically that is not what happens."
Reisenbichler and her seven children were the subjects of Crystal Moselle's 2015 film The Wolfpack. The family had spent the previous 14 years imprisoned in their Manhattan apartment by their abusive father, sustained only by movies they watched on TV. Reisenbichler recalls how "because of the process of making the documentary I have gotten extricated from a situation that was overpowering and detrimental to me".
Jesse Friedman, Capturing the Friedmans, 2003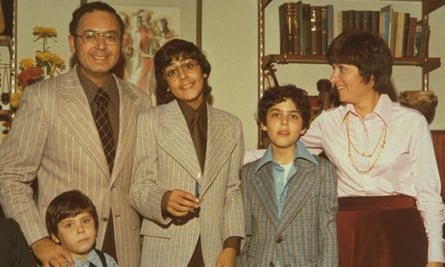 Jesse Friedman had served 13 years in prison for sex offences against children by the time Andrew Jarecki's Oscar-nominated film cast very serious doubts on his conviction. "I was a miracle of the documentary genre," Friedman says in Subject. "They were going to kill me in prison had Capturing the Friedmans not come along." Two decades later, however, Friedman is conflicted about the way the film has defined his life. "When you get to the end of a movie, the movie gets tied up with a little bow of an ending. But [life] doesn't conclude in 90 minutes, and there usually isn't a happy ending."